Description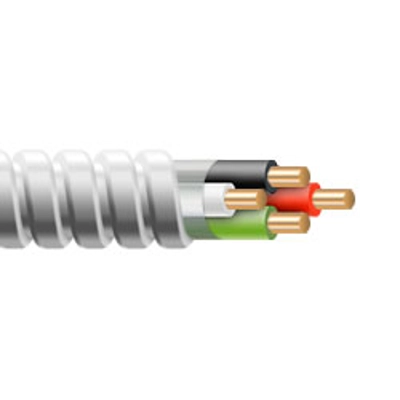 Product Details
4-3C Metal Clad (MC) Cable with #8 Ground, Aluminum Armored, Stranded Copper Conductors
Applications:
Branch, feeder or service power distribution in commercial, industrial, institutional and multi-residential buildings. Lighting, power, control and signal circuits. • Fished or embedded in plaster, concealed or exposed installations. Environmental air handling spaces per NEC 300.22 (C).
Places of assembly and theaters.
Under raised floors for technology equipment conductors and cables.
Installation in cable tray and approved raceways.
Class I Div.2, Class II Div.2, Class III Div. 1 Hazardous Locations.
Voltage rating for all applications is not to exceed 600 Volts.
Construction:
Type MC cables are constructed of soft-drawn bare copper (Solid or Stranded) with lead-free THHN/THWN-2 rated at 90˚C dry and available in sizes #14 AWG through and including #2 AWG, and including the green insulated ground conductor. The conductors are cabled, wrapped completely in a Mylar binder tape with an aluminum tape interlocked sheath applied over the entire assembly
Standards:•
ASTM B-3, B-8 and B-787
UL 83, UL 1569, UL 1581 and UL 2556
NEC 2014 : 300.22 (C), 310.10, 330,392, 518, 520, 530, 645
NFPA 70
Federal Specification A-A59544
IEEE 1202 (70,000 BTU/hr) Vertical Flame Test/FT4
CT Rated for 600 Volts if installed per the NEC directives
Rated for 1 and 2 hour Through Penetration
RoHS Compliant
ARRA 2009 Buy American Compliant
Specifications*:
Conductors: 3 + 1 Ground (4 total conductors)
Size: 4 AWG
Ground Size: 8 AWG
Outside Diameter: 0.941 inches
Weight: 0.674 per ft.
Ampere Rating: 60°C = 70 amps, 75°C = 85 amps, 90°C = 95 amps
Price: $9 / ft
100 ft =  $1000.