Description
6 String Configuration, Max current of single PV input array is 10A .Each String Continuous Duty Rated at 250 Vdc.(Regardless of the specifications of the solar panels, regardless of the connection method is series or parallel, as long as the current and voltage of a single PV does not exceed 10A/250Vdc, you can connect the combiner box)

Single PV input array installs with high voltage fuse, its function over-load, over-charge protection

Anti-Backflow Diodes, Anti-Backflow & Anti-Reverse Protection,Touch-safe Circuit Breakers& Non-conductive Box

Professional high voltage breaker controls output, with anti-circuit protection and make the system more reliable, safety

This PV array combiner box includes Output Cable Glands & Safety Labels & Lightning/Surge Protection Module (1000V)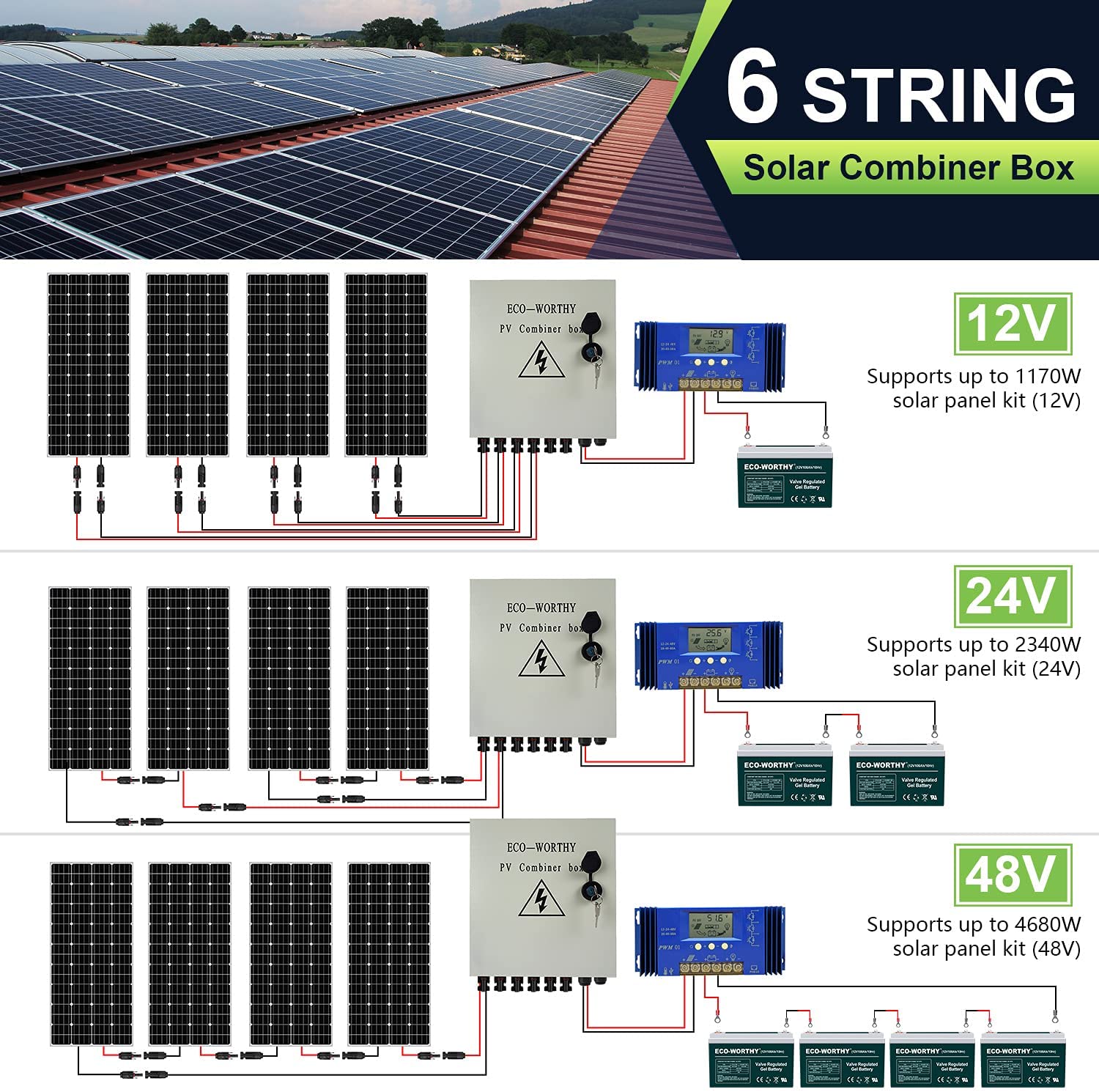 Installation and Precautions
Check the high-voltage fuses at regular intervals to prevent the solar panel from being open after the high-voltage fuses fused.

The input and output of the PV can not be reversed, otherwise the post stage equipment may not work or even damage other equipment.
When testing or maintaining this equipment, you need to notice that both the input and output port may be charged, please prevent electric shock or damage to other equipment.

After thunder and lightning ,you should check the lightning module, if you found the failure indicator lamps on panel turn to "red" from "green", please change it in time.
The equipment uses M6 screws to fix four mounting holes at the bottom of the PV Combiner Box , which are installed in the ventilated and dry place, please avoid direct sunlight, high ambient temperature and too wet environment, which will affect the performance of the equipment.

Use Method: Connect the positive and negative pole of the solar panel to the input port of the device, and dial the switch of the circuit breaker to the 1.ON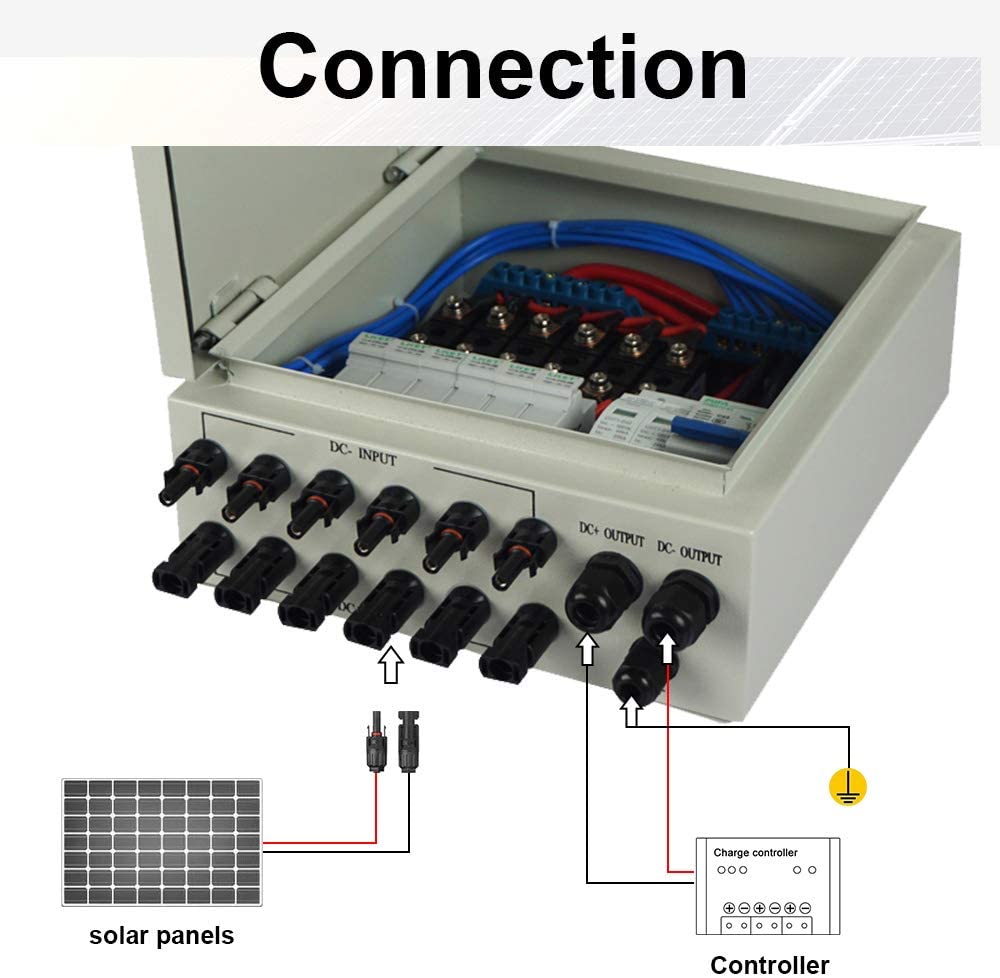 Q&A
Q: Where is the key to the lock?

A

: The key is provided in a plastic bag and is placed in the box package together with the combiner box. Due to the small size of the key, please pay attention to the location of the key while taking out the combiner box to avoid losing it.In the unfortunate event that the key is lost or cannot be found, please tell us.

Q: Why don't you use 15A fuse?

A

: Because 15A fuses is actually almost the same as 10A fuses. Normally, the output current of a 12V solar panel is 7-10A. Even if it's a 24V panel, the output current would be close to but no more than 10A. So if two panels were connected in parallel, no matter the voltage, the current should exceed 15A. In that case, the combiner box would need at least 20A fuse to do the job.Our product team is now working on upgrading our combiner box to a higher current withstand capability. Stay tuned to our store for new products.
Product information
Size:6 String PV Combiner Box
| | |
| --- | --- |
| Product Dimensions | 11.81 x 13.98 x 6.3 inches |
| Item Weight | 10.78 pounds |
| Manufacturer | ECO-WORTHY |
| ASIN | B01N96GJFT |
| Item model number | L03040401016-1 |