Description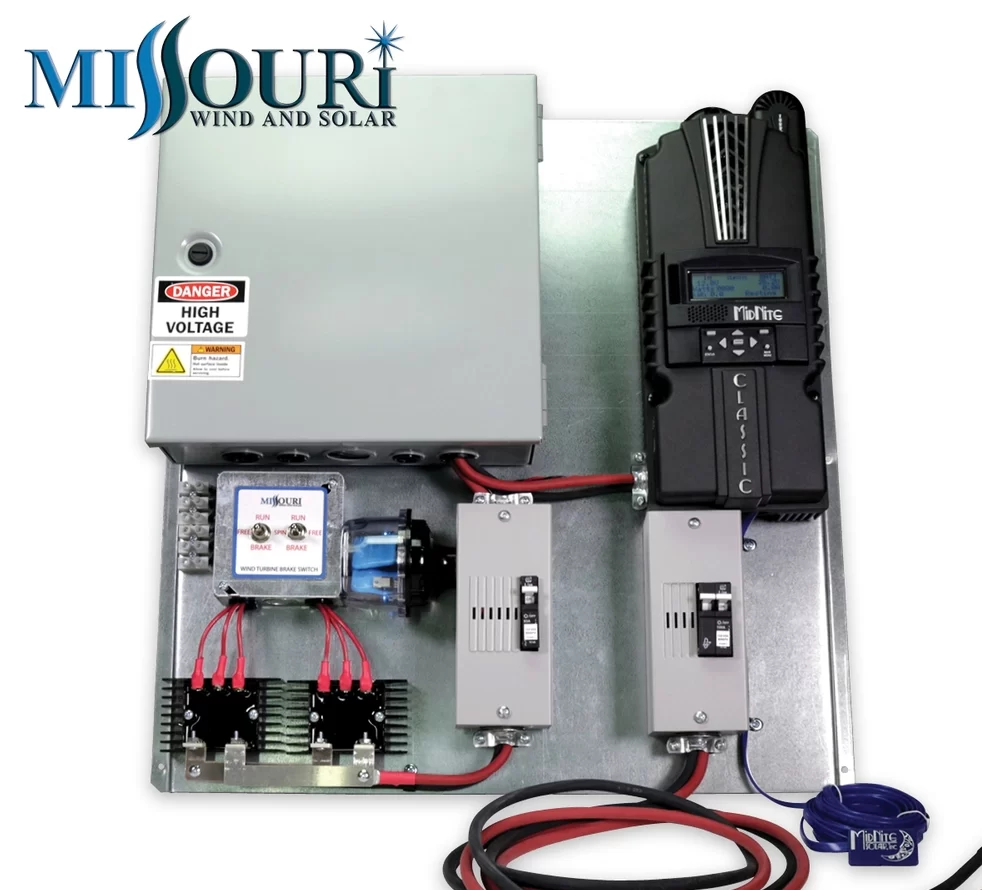 Pre-wired MidNite Solar Classic MPPT All-In-One Charge Controller Board with VRD for Wind
Comes with MidNite Solar Battery Temperature Sensor & MidNite Solar Surge Suppression Device
The Midnite Classic MPPT Wind Board can almost double your wind turbine's output at every wind speed over relay or PWM charge controllers. The Wind incoming power is routed through its own breaker, then converted by one of the most advanced MPPT charge controllers on the market to the most efficient charging algorithm and charging amperage available. This board connects to your battery bank, routed through a DC circuit breaker, for added security and fire protection! This step is often neglected and is essential to installing to code. For wind turbines with a diameter of 80 inches or less.
Features:
MidNite Solar Classic MPPT Charge Controller
Simply one of the most efficient Wind MPPT controllers on the market – made in the USA
The Midnite Classic MPPT Charge controller can almost double the output of your wind turbine over standard or PWM charge controllers by using a 16 point customization MPPT power curve. It's like having a sports car with 16 automatic gear changes to get you the most power at any speed!
Heavy-gauge, cleanly galvanized steel mounting board
Features folded ends and pre-punched wall mounting holes
Two MidNite Solar Baby Breaker Boxes pre-wired with the wind input breaker and battery output breaker
Our custom breaker box houses a MidNite 100 amp double pole breaker on the battery side of the controller for safety that also serves as a convenient disconnect and one 150 volt MidNite PV breaker for the wind turbine input that also serves as a convenient separate wind turbine disconnect.
Two 8 foot heavy-duty pre-wired #4 gauge flexible battery cables with lugged & heat shrink sealed battery ends
Dual Wind Turbine Brake Switch and Dual Rectifiers
All components are internally grounded to the board which allows for easy grounding,saving you hours of time and frustration the wiring is pre-wired and securely clamped between components
Wiring is housed in electrical EMT conduit
Plug and play: Simply bolt or screw the unit into the wall and make your wind turbine and battery bank connections (no crimping or heat shrink needed, just insert and tighten down)
Perfect for residential or commercial, on grid or back up power, off-grid, and boat use
MidNite Solar's pre-wired battery temperature sensor ensures batteries do not overheat in charging cycle (peel the tape and stick to one of your batteries)
Maximizes performance for your inverter or charge controller
Sensor is attached to a 15′ cable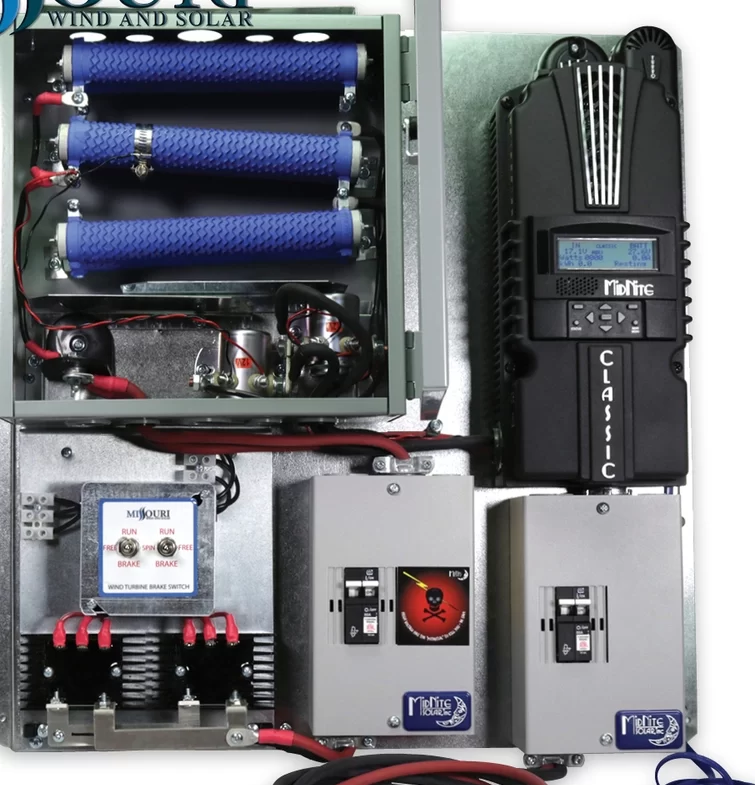 Wind Classic Charge Controller Capacity:
MidNite Classic Controller
12-Volt Charging Capacity
(12-volt battery bank)
24-Volt Charging Capacity
(24-volt battery bank)
48-Volt Charging Capacity
(48-volt battery bank)
Classic 150 MPPT
(150 operating voltage;
Max. current out.: 96 amps)

14.14 volts @ 96 amps

(1,380 watts of wind input power)

28.7 volts @ 94 amps

(2,700 watts of wind input power)

58.4 volts @ 83 amps

(4,847 watts of wind input power)

Classic 200 MPPT
(200 operating voltage;
Max. current out.: 79 amps)

14.14 volts @ 79amps

(1,137 watts of wind input power)

28.7 volts @ 78 amps

(2,238 watts of wind input power)

58.4 volts @ 65 amps

(3,796 watts of wind input power)

Classic 250 MPPT
(250 operating voltage;
Max. current out.: 63 amps)

14.14 volts @ 61 amps

(878 watts of wind input power)

28.7 volts @ 62 amps

(1,779 watts of wind input power)

58.4 volts @ 55 amps

(3,212 watts of wind input power)
MidNite Classic Charge Controller Features:
ETL listed to UL1741 and CSA
Exclusive HyperVOC extends VOC limits
12-72V battery
Built in DC-GFP and Arc Fault Detector
MidNite Classic Charge Controller Specifications:
14.9″L x 6″W x 4″D
Warranty – 5 yrs.
Listed by ETL for US & Canada
CE Certified Listed
FCC Class B Listed
Made in the USA